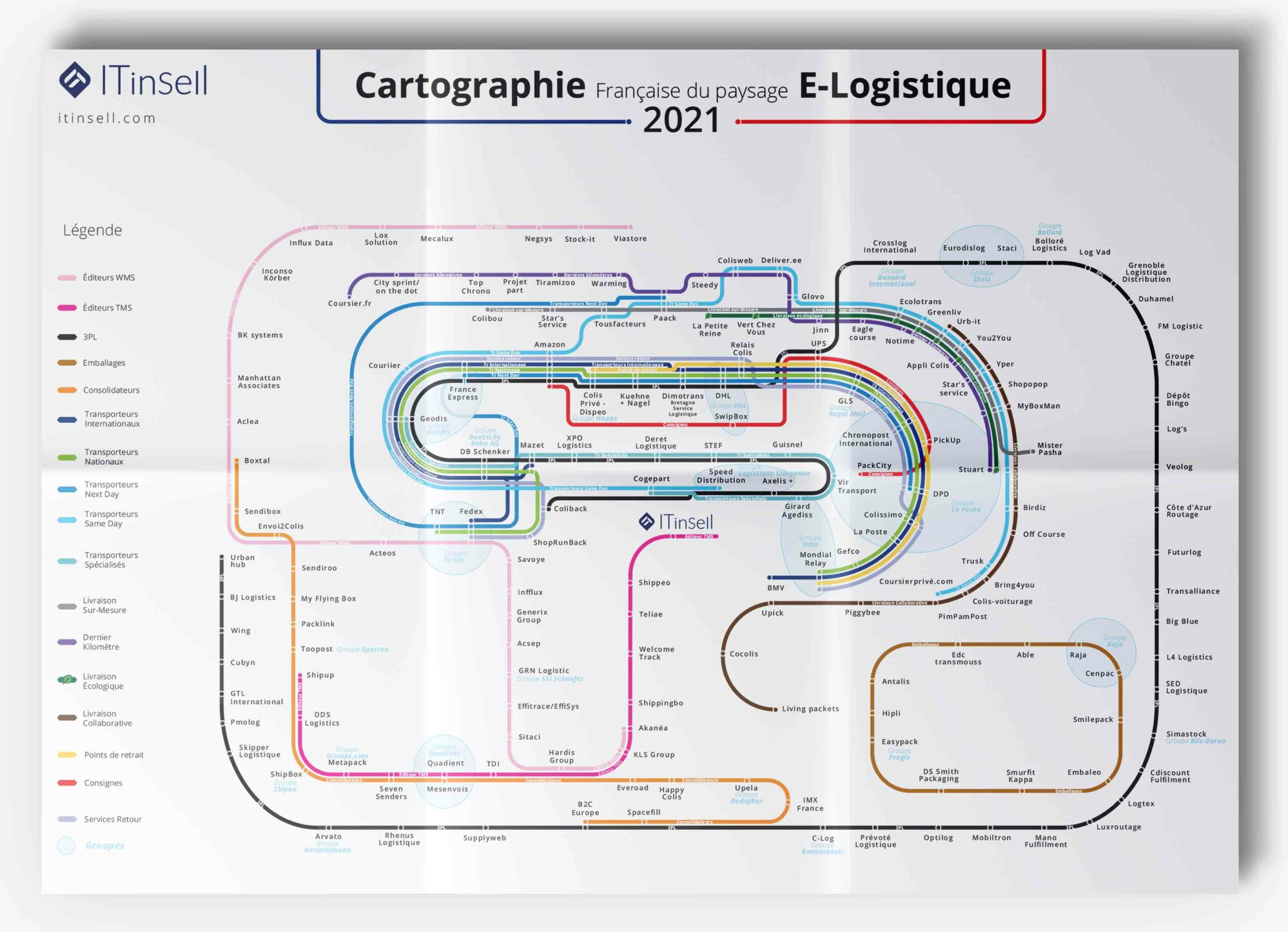 Understanding the French E-Logistics market at a glance
The mapping of the French e-logistics landscape allows us to draw a panorama of of the different supply chain actors and simplify the visualization of visualization of the logistics professions.
Essential to know the sector, this document, exclusive to ITinSell and published every year, allows to have an overall vision of the French E-logistics actors.
For this 2021 version, we are pleased to present you :
172 referenced companies
13 new players
17 different lines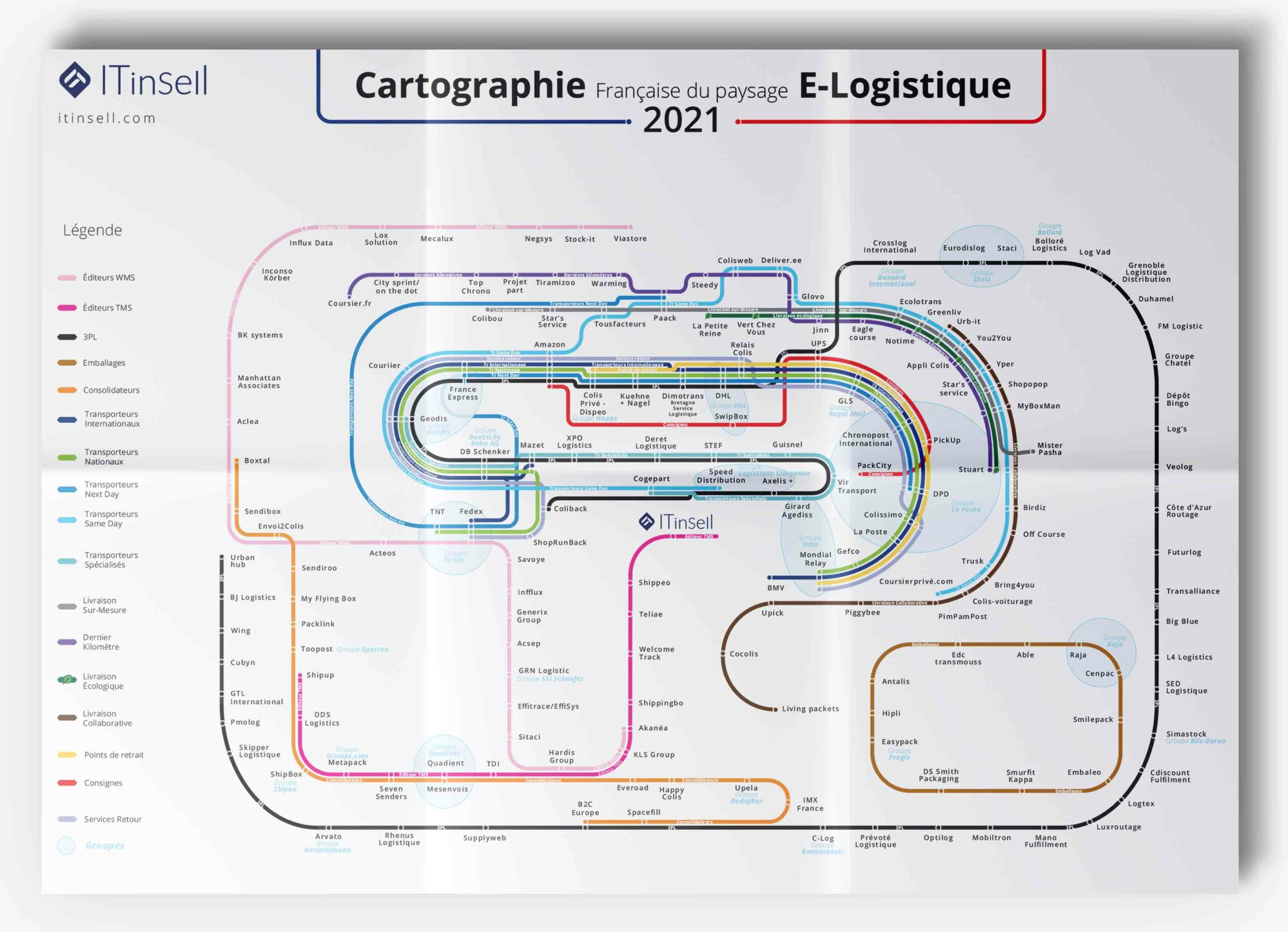 The goal of the E-logistics landscape
Its objective is simple: to offer an overview of the sector, in the clear and playful form of a subway map. What could be more representative than a transport map to schematize the world of e-logistics?
To make e-logistics simple and efficient for its customers. This is the credo of ITinSell through its solutions for e-merchants and 3PL. The cartography perfectly reflects this philosophy by bringing simplification and clarity to the French e-logistics landscape.
It is important to note that this tool is neither a directory nor an alphabetical listing of companies, but a global representation at a precise moment of the activity of each one and its role(s).
There is also no particular hierarchy or emphasis on one company over another.
The 172 actors listed are classified in 13 different lines according to their activities. This is why a player can be found at the intersection of several lines or connected with others.
Each line has its own color and name to make it easy to read. The traditional stations are replaced by company names.
Want to know which "national carriers" offer "return service"? Follow the green and purple lines and you will see all the companies that meet your search criteria.
The realization of this mapping requires a high level of expertise and a permanent watch throughout the year. To achieve this, ITinSell relies on its own market experience, its internal resources and its network of experts who support it on a daily basis.
The annual edition also mobilizes several departments within the company (sales, marketing, communication) and requires cross-functional knowledge sharing. Prior to publication, an overall verification is carried out on each of the players to ensure the accuracy of the information. (Change of name, takeover by a group, new activities proposed, end of certain activities… etc)
If it only takes a few weeks to edit the document, the monitoring is done throughout the year. Mapping is a real common thread at ITinSell and an achievement that is part of the company's DNA.
The French e-logistics landscape in 2021
The health crisis has had a strong impact on e-commerce and many players have changed their activities. The "Ship From Store" model has intensified. Among the trends, we note an emergence of transport actors in the sectors of "ecological delivery" and "last mile".
Telecommuting, confinements and business closures have forced the French to stay at home. Urban areas have seen an increase in carrier traffic, especially for "last mile" deliveries. With ecology becoming a major concern for the French and a challenge for transporters, many names have emerged in this booming sector.
The 172 companies on the map
Aclea
Able
Acsep
Acteos
Akanéa
Amazon
Antalis
Appli Colis
Arvato
Axelis+
B2C Europe
Bigblue
Birdiz
BJ Logistics
BK systèmes
BMV
Bolloré Logistics
Boxtal
Bring4you
BSL
Cdiscount Fulfilment
Cenpac
Chronopost International
C-Log
Cocolis
Cogepart
Coliback
Colibou
Colis Privé
Colissimo
Colis-voiturage
Colisweb
Côte d'Azur Routage
Couriier
Coursier.fr
Coursierprive.com
Crosslog International
Cubyn
DB Schenker
DDS Logistics
Deliver.ee
Dépôt Bingo
Deret Logistique
DHL
Dimotrans
Dispeo
DPD
DS Smith Packaging
Duhamel
Eagles Course
Easypack
Ecolotrans
Edc-transmouss
Effitrace / EffiSys
Embaleo
Envoi2colis
Eurodislog
Everoad
Fedex
FM Logistic
France Express
Futurlog
Gefco
Generix Group
Geodis
Glovo
GLS
Greenliv
Grenoble Logistique Distribution
GRN Logistic
Groupe Chatel
GTL International
Guisnel
Happy colis
Hardis Group
Hipli
IMX France
Inconso-Körber
Infflux
ITinSell
Jinn
Jwebi
KLS Group
Kuehne + Nagel
L4 Logistics
La petite reine
La Poste
Living Packets
Log Vad
Logic.pt
Log's
Logtex
Lox Solution
Luxroutage
Lynx Transport LYD
Manhattan
Mano Fulfillment
Mazet
Mecalux
Mesenvois
Metapack
Mister Pasha
Mobiltron
Mondial Relay
My flying box
MyBoxMan
Negsys
Notime
Off Course
Optilog
Paack
PackCity
Packlink
PickUp
Piggybee
PimPamPost
Pmolog
Prévoté Logistique
Projet part
Quadient
Raja
Relais Colis
Rhenus Logistics
Savoye
SED Logistique
Sendibox
Sendiroo
Seven Senders
ShipBox
Shippeo
Shippingbo
Shipup
Shopopop
ShopRunBack
Simastock
Sitaci
Skipper Logistique
Smilepack
Smurfit Kappa
Spacefill
Speed Distribution
Staci
Star's Service
Steedy
Stef
Stock-it
Storeshippers.com
Stuart
Supplyship
Supplyweb
SwipBox
Tdi
Teliae
Tiramizoo
TNT Fedex
Toopost
Top Chrono
Tousfacteurs
Transalliance
Trusk
Upela
Upick
Ups
Urban hub
Urb-It
Usend
Veolog
Vert chez vous
Viastore
vir transport
Warning
Wing
XPO Logistics
You2You
Yper